Spring Break Scavenger Egg Hunt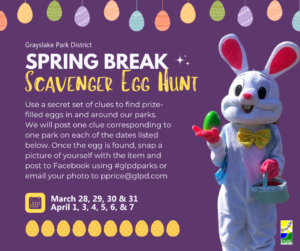 10 DAYS, 10 CLUES, 10 PARKS, 10 EGGS
We've teamed up with the Easter Bunny to hide 10 mega eggs in 10 of our parks. Locate the correct park using clues and then it's up to you to find the hidden egg. If you find an egg, be sure to open it up for a one-of-a-kind prize.
When you find the prize, be sure to snap a picture of yourself and the egg and post to social media using #glpdparks or email to pprice@glpd.com
We will post one clue corresponding to one park at 10:00am on each of the following dates, so be sure to follow along!
CLUE #1 – Take center stage at this structure located in the park that basically defines the middle of our Village.
FOUND AT PERFORMANCE PAVILION IN CENTRAL PARK!
CLUE #2 – Oh deer! Check several points of this playground for the hidden egg.
FOUND AT ANTLER PARK!
CLUE #3 – This park was created in the early 1970's by a local community group that acquired the land from the McMillen Family.
FOUND AT JAYCEE PARK!
CLUE #4 – Watch this hot glowing ball of hydrogen and helium ascend at the park located on the same street where the muffin man lives.
FOUND AT SUNRISE PARK!
CLUE #5 – Although this famous World War 2 leader never visited our park, the park does partially share his name.
FOUND AT CHURCHILL JUNCTION PARK!
CLUE #6 – No machinery for grinding grain can be found in this park, but you will find a minor tributary.
FOUND AT MILL CREEK PARK!
CLUE #7 – This park shares the name of the sound a locomotive might make as it passes by!
FOUND AT TOOTERVILLE PARK!
CLUE #8 – Although the spelling differs, this park shares the name of a famous pop singer from the late 90's and early 2000's.
FOUND AT BRITTANY PARK!
CLUE #9 – This park shares the name of the famous collection of stories written in Middle English between 1387 and 1400.
FOUND AT CANTERBURY PARK!
CLUE #10 – There's one of these called Easter, with faces made of stone. If you were on a desert one, you're probably shipwrecked and alone.
FOUND AT JONES ISLAND PARK!
Need to find your way around? Use our interactive map here: https://www.glpd.com/locations/